Penulis : Tarsih Ekaputra, Wakil Ketua Panitia KNH 2015

Profesi public relations (PR) atau Hubungan Masyarakat (Humas) sudah tidak asing lagi ditelinga masyarakat. Hampir di seluruh kegiatan, baik perseorangan, organisasi maupun perusahaan. Peranan PR sangat dibutuhkan untuk mendukung kegiatan tersebut. Sebab peran PR harus memiliki hubungan timbal balik dengan stakeholder.
Namun begitu, menjadi seorang PR masih menyimpan banyak tantang, salah satunya adalah bagaimana menyiapkan Masyarakat Ekonomi ASEAN (MEA) pada akhir tahun ini. Sehingga ketika MEA diterapkan tahun 2016, praktisi PR sudah memiliki kemampuan yang mumpuni dalam menjalankan strategi PR yang "cerdas".
Ada dua tips yang harus diperhatikan praktisi PR di era globalisasi. Pertama, menjunjung tinggi local wisdom yang menjadi kekuatan pemain lokal. Kedua, memperkuat platform digital guna meningkatkan awareness dan menjadikan paltform tersebut sebagai contact point bagi sasaran khalayaknya.
Tentu komunikasi digital satu arah tidaklah cukup untuk menjalankan program PR. Perlu adanya komunikasi dua arah dengan netizen yang diharapkan terjadi engagement. Jika ini terjalin dengan baik, maka praktisi PR memiliki kemudahan dalam advokasi terhadap program-program lainnya, seperti CSR, Marketing dan lainnya. Bahkan netizen juga dapat sebagai agent word of mouth yang baik di lingkungannya.
Konvensi Humas
Dalam menjawab tantangan tersebut. Perhimpunan Hubungan Masyarakat Indonesia (PERHUMAS) berkesempatan untuk memaparkan topik-topik terhangat sebagai bekal bagi praktisi PR di Indonesia, yakni melalui Konvensi Nasional Humas (KNH) 2015. Acara tahunan ini akan diadakan pada tanggal 18 – 20 November 2015 di Sari Pan Pacific Hotel, Jakarta.
Pada tahun 2015, KNH mengangkat tema: "The Sustainable Path to Trust and Reputation". Tema ini sengaja diangkat untuk mendorong praktisi PR dalam menciptakan kesepahaman sebagai pengelola dan pendamai sistem nilai, serta kepercayaan dan ideologi organisasi dengan lingkungannya.
Target itu tercapai jika didukung dengan status PR sebagai interpreter yang mewakili sebuah organisasi dan pencipta social policy, serta menempatkan organizational behavior sebagai panduannya. Selain itu, praktisi PR harus memfokuskan diri pada strategi komunikasi dan pemberi saran pada hal-hal yang signifikan, seperti nilai-nilai dan kultur yang dianut masyarakat.
Kami meyakini bahwa praktisi PR harus selalu menjadi well-informed persons dengan strong sense pada riwayat dan pengetahuan akan kejadian-kejadian yang terkini, sehingga pelaku PR juga mempunyai nalar yang tajam dan berwawasan kosmopolitan. Hasilnya praktisi PR dapat mencerminkan wakil organisai bagi media, pelanggan, community leaders atau government officials.
Di sisi lain, keberadaan PERHUMAS sebagai organisasi praktisi humas di Indonesia, turut mengambil peranan penting pada pertumbuhan ekonomi nasional melalui sektor komunikasi. Hal ini mengacu pada amanat Munas 2014 bahwa PERHUMAS diharapkan menyiapkan Undang-undang Kehumasan, serta merancang Platform dan Strategi Kehumasan Indonesia segera terwujud. Jika payung hukum tersebut ada maka keberadaan PERHUMAS sebagai pengharapan pelaku PR dapat tumbuh berkembang dan kompetitif di era globalisasi.
Oleh karena itu, melalui ajang KNH 2015 ini, bersama-sama kita akan membedah beragam tantangan praktisi PR, di antaranya adalah Apa Saja Tantangan Praktisi PR? Bagaimana Menyikapi Globalisasi? Bagaimana Karir Praktisi PR tahun 2025? Apa Saja Challenges dan Opportunities Bagi PR?
Selaku panitia penyelenggara KNH 2015, kami berharap peluang dan kesempatan ini dapat diikuti secara baik oleh pelaku kehumasan di Indonesia, baik profesional, organisai maupun pemerintahan. Mari sukseskan KNH 2015..!!
——–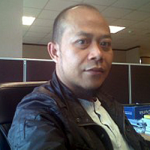 Biografi Penulis:
Posisi di BPP PERHUMAS sebagai Ketua Bidang Pengembangan Badan Pengurus Cabang (BPC) PERHUMAS. Pendiri konsultan PR bernama Mistertipr dan VIP Communications. Aktif juga sebagai trainer di beberapa lembaga training, seperti XP Training dan International Republican Institute. Beberapa kliennya adalah Asosiasi Bank Pembangunan Daerah (Asbanda) dan Otoritas Jasa Keuangan (OJK).